Additional Services of International Medicine Department
In addition to medical services, the International Medicine Department in staff is more than happy to provide patients and their escorts with all the necessary support to ensure maximum comfort during their stay in Israel.
Flights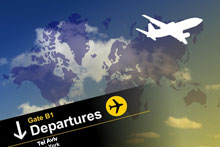 Plane tickets to Israel are offered at special prices for patients of the International Medicine Department:
Air travel via regularly scheduled flights (alone or accompanied by a doctor)
Air travel via private plane (alone or accompanied by an intensive care medical team)
Pick Up
If requested, a hospital representative will meet patient and their escort in the airport, and accompany them to the Sheba Medical Center to begin the process of examination, treatment or rehabilitation. Meeting points and level of assistance can vary:
Meeting at the ramp and assistance in processing of paperwork without going through the terminal
Meeting at the ramp and assistance in processing paperwork in the terminal, and standing together in line.
Meeting in the waiting area after patients pass through the Terminal and processes their own papers.
Accommodation in Israel
Different levels of accommodation are available near the hospital, and all offer discounted prices to our patients. If patients arrive to Israel for an extended stay, renting an apartment is definitely a possibility to consider. In certain cases, patients can rent a 2-room unit, with full board, including supervision of medical personnel.
Tours around Israel
We offer personal or group tours around Israel by car, boat or plane, accompanied by professional guides. You'll be able to add Israel's wonderful landscapes and famous holy sites to your itinerary, and a whole new and exciting dimension to your trip here.
Car rental
Car rental (with a personal driver if necessary) is available at great prices for any time intervals, including hourly rentals for shopping trips or other personal errands.
Telephone services
For your convenience, we offer SIM cards for mobile phones at attractive prices.