Selective internal radiation therapy technique(SIRT)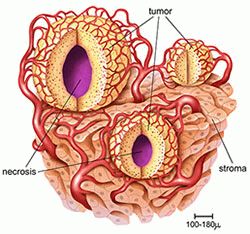 Illustration of a cancerous liver cells
Oncological diseases are widespread and can be divided into two main types: primary cancers, or tumors, and secondary or metastatic cancers.
Liver Cancer, primary or metastatic, - is a common cause of death among adult cancer patients worldwide.
Almost a quarter of all cases of primary liver cancer found in the developed countries and the number of liver cancer patients is growing. The prevalence of primary liver cancer in the U.S. grew by 71% over the period from 1991 to 1995, compared with the period 1976-1980.
Similar picture was observed in the Western Europe. According to the experts, a noticeable spike in liver cancer frequency is due to increase in accidents of hepatitis B and C in Europe.
Secondary liver cancer occurs in all countries, regardless of their economical status, and is the result of cancer of other organs than liver, such as colon, breast, eye (melanoma), which leads to the formation of metastases in the liver. Almost a third of different cancer types are leading to the formation of metastases in the liver. More than 50% of colon cancer patients develop metastatic liver cancer.
The therapeutic method of SIRT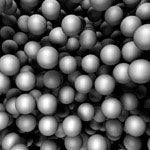 Microscopic grains containing Yttrium-90
International Company SIRTeX developed a unique technology to treat liver cancer, which Oncology Department of the Sheba Hospital is already successfully using for several years.
Microscopic grains, known as SIR-Spheres ®, containing Yttrium-90, are introduced by shunting into the hepatic artery, from where they are getting to the tumor in the liver. These grains emit a precisely targeted high level of radiation, which leads to the destruction of the tumor, while maintaining the integrity of healthy liver tissue around it.
SIRT with SIR-Spheres® can now effectively treat liver cancer, opening the opportunities for the successful cancer treatment, which did not existed until now:
The new treatment of liver tumors that can not be removed by surgery. The purpose of the procedure is to direct a high-level radiation emitted by Yttrium 90 to all cancer cells in the liver regardless of their origin, number of metastases, size and location of the cancer foci in the liver.
The process of introducing SIR-Spheres into the liver occurs during shunting, combining the directional targeted irradiation with embolization, blocking of microscopic grains of small blood vessels around the tumor.
SIR-Spheres ® is approved for use by FDA, CE, and the Israeli Ministry of Health.
This procedure is is part of MEDICARE, MEDICAID procedures in the U.S. and the European "basket of drugs".
To date, this treatment was applied to more than 10 000 patients worldwide. In Israel alone, more than 70 patients have responded well to this treatment.
Clinical experiments demonstrated that:
life expectancy of patients treated with SIR-Spheres® has increased by an average of 10 months at the final stage of the treatment, compared with 3.5 months, which was achieved by chemotherapy.
Treatment of SIR-Spheres ®, along with chemotherapy in the initial phase of treatment increases life expectancy by 29 months compared with chemotherapy alone.
SIRT is introduced in a one-time basis and is intended for patients with tumors in the liver, which can not be removed through surgery, when patients are considered to be clinically relevant for this treatment.
MRI scans

Before treatment

After treatment
In conclusion:
Treatment of SIR-Spheres® has proven effective in reducing the volume of metastatic disease and slowing the development of a primary or secondary cancer of the liver.
Treatment of SIR-Spheres® is for patients without serious side effects.
Treatment of SIR-Spheres® supports and enhances the quality of life for patients.
Treatment of SIR-Spheres® extends the life expectancy of patients by an average of 29 months - compared with 12 months after a course of chemotherapy.
This treatment can be combined with chemotherapy to achieve higher efficiency.
The success reached 91% with treatment SIR-Spheres® in combination with chemotherapy
Survival in the application of treatment SIR-Spheres® in combination with chemotherapy, higher by 65%