Therapies for Cancer (Primary Tumors and Metastases)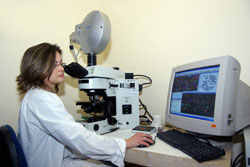 Radiotherapy
The main goal of our radiotherapy department is to find effective methods of radiotherapy aimed at the destruction of the source of the cancer without damaging surrounding healthy tissue or organs.
The radiotherapy department conducts studies of drugs, specifically looking for those drugs that increase the sensitivity and response of cancer cells to radiation therapy and those drugs that will inhibit the growth of cancer that has metastasized.
The radiotherapy department relies on innovative research into the genetic characteristics of tumors to determine the best course of treatment for each patient when it comes to chemotherapy and radiation therapy.
Pain management and the preparation of the patient for radiation are also tasks that the radiation department undertakes.
Radiation Department Medical Personnel
Dr. Zvi Simon - Head of Radiotherapy and Brachytherapy.

Expertise: Clinical oncology, radiotherapy, brachytherapy, prostate cancer, internal medicine, prostate cancer, internal medicine.

Dr. Rafael Paper - Leading radiotherapy doctor

Expertise: Oncology, radiotherapy.

Dr. Tatiana Rabin - Department coordinator and leading oncologist

Expertise: Clinical oncology, radiotherapy, cancer of the female reproductive system.

Dr. Mira Ben David - Leading doctor, radiotherapy department, and coordinator of radiotherapy for the treatment of breast cancer.

Expertise: Clinical oncology, radiotherapy, radiation therapy for breast cancer.

 

Dr. Gluck and Dr. Efrat are also valuable staff members.

 
Nursing Structure
The nursing staff at the Cancer Center at Chaim Sheba Hospital located in Israel is comprised of a professional team of caring and experienced professionals. Nurses are on hand to observe the state of each patient during radiotherapy, looking for any side effects that are caused by the treatment and offering care to the patient accordingly.
Nurses also have a role as patient educators who instruct patients about the methods that are being used to fight their cancer, what patients can expect during treatment, and any possible complications that can arise from treatment.
Staff social workers and psychologists also work with patients to help answer any questions that the patient has about their treatment, including the social and psychological aspects of cancer.
Physics
We are proud to have a strong group of professional physicists, who constantly strive to improve current methods of radiation therapy with a goal of preventing unnecessary damage to healthy tissue during treatment. Using mathematical models and a special programming method known as EGS4, our physicists work with our radiation department to achieve a high level of safety for our patients.
Chaim Sheba Hospital Cancer Center of Israel offers the following services:
Radiation Therapy
Radiation therapy works using ultra magnetic waves. Radiation therapy, also known as radiotherapy, uses ultra magnetic waves of high-energy to cause damage to cancer cells and stop them from growing and dividing. This modern technology purposefully destroys cancer cells. Radiation therapy destroys only the isolated cancer cells. Radiation does not reach the remote or secondary lesions therefore surrounding tissue remains unaffected.
Two Different Procedures for Treatment:
Local treatment – this method is administered externally directly from the radiation machinery, and it affects cancer cells only in the treated area. The patient is educated before and after the procedure and may remain in isolation for a short period following the treatment.
Implant treatment – a small container of radioactive material is place internally directly into or near the tumor in order to destroy the cancer cells. Once the implant is removed, there is no radioactivity left in the body.
Irradiation is necessary in order to facilitate pain, shortness of breath or feeling of pressure that is associated with this type of tumor thus eliminating surgery and reducing patient''s risk.
Brachytherapy Treatment
Brachytherapy is used primarily in treating tumors of the prostate and cervix.
Radiation administered internally using the implant method or local treatment method using high doses of rays while preventing contact with healthy tissue nearby.
Encouraging results for brachytherapy treatments are based on separate research and working together with colleagues from Michigan University on the application o\f high-dose brachytherapy in the treatment of tumors of the pancreas in the final stages of development.
Modern technology for the irradiation of cancer cells is an innovative, safe and effective method.
Chemotherapy Treatment
Chemotherapy usually takes several hours to several days of treatment. The treatment is repeated in two or three weeks, depending on the result achieved in each individual case. This cyclical approach is used because the body needs time to recover from the previous cycle of treatment and carry-over effects.
The purpose of each program of chemotherapy is accurate in dosage amounts; treatment time and frequency of cycles in order to maximize destroy cancers and metastases. Protect the patient from the occurrence of side effects.
Any form of treatment aimed at the malignant tumor, no doubt, leads to biological changes in the tumors'' structure. Currently there are special medications that destroy the targeted molecules of cancer cells and metastases. These drugs have fewer side effects than drugs used in chemotherapy; the drugs are taken orally or intravenously.
In addition, Chaim Sheba''s oncology department recently undertook a series of studies regarding the effectiveness of biological products.
The following is a list of approved drugs that are distributed in the Chaim Sheba Hospital Cancer Center located in Israel.
Herceptin® (trastuzumab)
Avastin®
Cetuximab® (erbitux)
Tarceva® (erlotinib)
Sumatinib Suter
Glivec® (Imatinib)
Nexavar (sorafenib)