Resuscitation and intensive care of burn injuries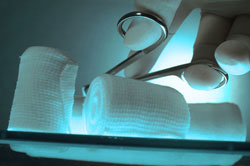 Public Service for Intensive Care Burn Injury, which is acting at the Department of Plastic Surgery in Sheba Hospital more than 20 years, is the only of its kind with the experience gained in caring for the many victims of Israeli Wars. This office is located in the Central Hospital Building, at the Eastern end of the first floor.
According to statistical data, the Center served 100-200 people annually, 20-30 patients of which are patients with severe burns, requiring CPR, pre-and post-ops care, ranging from the controlled pain relief to the preparation for recovery. Treatment includes surgical treatment of burns, burn injuries, as well as recovery operations and the removal of the scars.
A Rehabilitation Center at the Sheba Hospital provides follow-up treatment for patients with burns after their discharge from the Burn Intensive Care services. If patients are children, after the completion of the surgical procedures in the Burn Reanimation Center they are transferred for further treatment at Children''s Hospital.
Intensive Care Burn Public Service Center provides an important core facilities for many Research Projects in the specific treatment of burns, and also regularly takes part in the international programs to provide surgical care and training of physicians in other countries (Kazakhstan, Kenya, Cameroon, Peru Paraguay, Cyprus, etc.).
Attending staff
Public Service Intensive Care Burn Injury is acting at the Department of Plastic Surgery Sheba Hospital and employing a team of specialists of the highest knowledge of treatment, care, and rehabilitation of patients with burns. Their knowledge and experience are vast, clear, well thought out and, at the same time, deep enough to organize a flexible work that can cover all aspects of burn medicine and provide maximum assistance to the victims.
Dr. Yossi Hike - Head of Public Service of Intensive Care Burn Injury.

Specialty:

Plastic surgery, burns, plastic reconstruction, reanimation.

Mr. James Bard - a senior nurse.

 
The multidisciplinary team of Burn Intensive Care Services includes members a psychiatrist, a specialist in treatment of infectious diseases, occupational therapist, physiotherapist, dietician, social worker, clinical psychologist and skilled nursing staff specially trained to work in the intensive care unit .