Treatment of malignant tumors using Mohs Micrographic Surgery
Clinic for Mohs micrographic operations was founded in 1989 by Dr. Chilinski. This is the first such Clinic in Israel and throughout the Middle East to conduct Mohs operations. To date, the Clinic has been successfully treated thousands of patients.
Attending staff
Dr. Yitzhak Chilinski - Head of the Clinic.

Expertise:

Plastic Surgery
Micrographic surgery Mohs
Face restoration

Dr. Klyachkin - leading doctor.

 

Dr. Shabshin - leading doctor.

 
Methods of work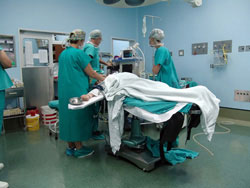 Mohs micrographic surgery, developed by Dr. Frederic Mohs, is the most accurate and complete method of removing tumor cells in skin cancers of different etiologies, coupled with minimal plastic damage, which is especially important during operations on the face.
The advantage of this operational method over the other techniques is to perform the operations in the microscopic study of thin layers of skin down to healthy tissue. Using microscopy and a special scanning techniques allows to remove a malignant tumor with maximum preservation of healthy tissue around it, that achieves optimal cosmetic results.
This technique gives the highest chance of cure for skin cancer (96-99%) even in cases where other methods have not been successful.