Department of Neurorehabilitation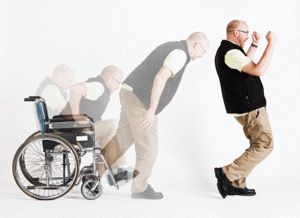 The main objective of the Neurorehabilitation Department, similarly to general rehabilitation, is to return patients to productive lives with their families and in society as soon as possible.
The Department of Neurorehabilitation at Chaim Sheba Hospital was founded in 1948. Since then, it has successfully carried out the physical, psychological and social rehabilitation of patients with various disabilities of the central and peripheral nervous systems.
The Neurorehabilitation Department is part of the Rehabilitation Center at Chaim Sheba Hospital ("Tel-ha-Shomer").
The guiding principle of the Department is the continuity of treatment and recovery process from the beginning of illness or injury until the patient can return to a normal life in society.
Treatment methods used by the Department are based on the latest scientific developments in the field of rehabilitation. Rehabilitation Program is designed individually for each patient with attention to various aspects of the patient's life. Implementation of the program is based on the involvement of all experienced professionals of our Department, who used the latest available technology and modern sophisticated auxiliary devices in their work.
The Department has a wealth of experience in the rehabilitation of patients with various problems, including war injuries.
Attending staff
Professional staff of the Department is represented by a multidisciplinary team of physicians, nurses, specially trained physiotherapists, occupational therapists, psychologists and social workers. Moreover, our Department provides such services like hydrotherapy, physiotherapy, speech therapy sessions and, if necessary, various kinds of alternative medicine.
During hospitalization, each patient undergoes examination by different laboratory diagnostic methods, provided by the corresponding Departments of the Medical Center. Admitted patients can use professional advisory services in various fields of medicine, such as orthopedics, neurology, neurosurgery, psychiatry, internal medicine internal medicine, infectious diseases, otolaryngology, plastic surgery, general surgery, etc.
Inpatient unit
The Department is an all-Israeli Rehabilitation Center for patients with spinal cord injuries. Moreover, the Department offers services to patients with diseases, disorders or injuries of the central or peripheral nervous system, such as an acute stroke, brain injury, multiple sclerosis, Guillain-Barre Syndrome, etc.
The Department has facilities that can accommodate 36 patients at once. Most rooms are double occupancy. There is also a room for one patient and an intensive care ward for four patients. Most patients are transferred to the Department of Neurorehabilitation from other Departments of the Medical Center, and only few are referred from the outpatient clinics.
Upon completion of the rehabilitation program at the Department, patients continue treatment and supervision in various outpatient rehabilitation centers and clinics, for example: daily rehabilitation in-patient hospitals, the Department of Rehabilitation for people with impaired movement and other outpatient clinics, which provide further follow-up care.
Scientific and educational activities
The Department of Neurorehabilitation of Chaim Sheba Hospital is an affiliate of the School of Medicine at Tel-Aviv University.
Here, in our Department, students of various medical specialties have an opportunity to obtain clinical practice and conduct scientific research in neurorehabilitation. Also, many doctors from other Academic Centers in Israel and other countries expand their professional experience with various diseases, disorders and injuries of the central or peripheral nervous system here.
Research activities
Our Department carries out a rigorous scientific research in collaboration with various Israeli and foreign research centers. The area of research is an extensive one and includes, for example, the use of International Classification of Functioning (ICF), application of new medical technologies in rehabilitation, improving cardio-respiratory endurance in patients with physical limitations, neuropathic pain, spasticity, and the study of the mechanisms of the psychological aspects of rehabilitation.