Osteo-odonto-keratoprosthesis surgery in Israel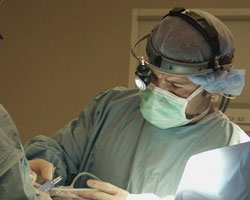 Osteo-odonto-keratoprosthesis (also known as "tooth in eye" surgery) is a medical procedure to restore vision in the most severe cases of corneal and ocular surface patients. It is suitable for cases that are not amenable to corneal transplantation or other forms of surgery. It includes removal of a tooth from the patient. After removal, a lamina of tissue is cut from the tooth. The lamina is grown in the patients' cheek for a period of months and then is implanted upon the eye. The procedure was invented in the early 1960s by the Italian dr Falcinelli.
The Falcinelli OOKP, where adequately performed, is now recognized internationally as giving the best, long-term visual and retention results among all keratoprostheses, especially in a dry eye. The procedure is carried out in two stages 4–5 months apart. Each stage lasts 6–8 hours and in a few patients multiple surgeries are required.
In 2022, a retrospective study conducted on 82 eyes with the "tooth in eye" surgery, showed an anatomical survival of 94% up to 30 years of follow-up.
The rare operation was performed successfully several times at the Beilinson Hospital in Israel by a team of Opthalmology specialists under the direction of Dr. Iftach Yasur, the director of the Oculoplastics Clinic (eyelid surgeries, eye sockets and tear ducts) at Beilinson Hospital, Hasharon Hospital and Schneider Pediatric Hospital.
Watch news coverage of the surgery >>