CAR-T cell therapy in Sheba: overview of activity– Prof. Arnon Nagler: part 1
This is a summary of Prof. Nagler's lecture at the Sheba-React event in July 2023

Prof Arnon Nagler, M.D., M.Sc. is the of the President Hemato-Oncology Center in Sheba and Co chair Molecular markers subcommittee of the ALWP of the EBMT

The presentation will revolve around the in-house academic CAR T-cell therapy program at Sheba and the associated experiences of this institution. Over the past five years, Sheba Hospital has consistently been recognized as one of the top ten hospitals globally. Of utmost importance, particularly for the innovation center and the laboratory dedicated to CAR T-cell studies, is the hospital's ranking as the thirteenth smart hospital worldwide. The narrative of CAR T-cell therapy spans a period of approximately 30 years from conceptual development to the current day, where commercial products are available in the clinic. The genesis of this therapy can be traced back to stem cell transplantation. In present times, CAR T cells are typically administered and produced within the confines of the transplant department, where patients receive their treatments.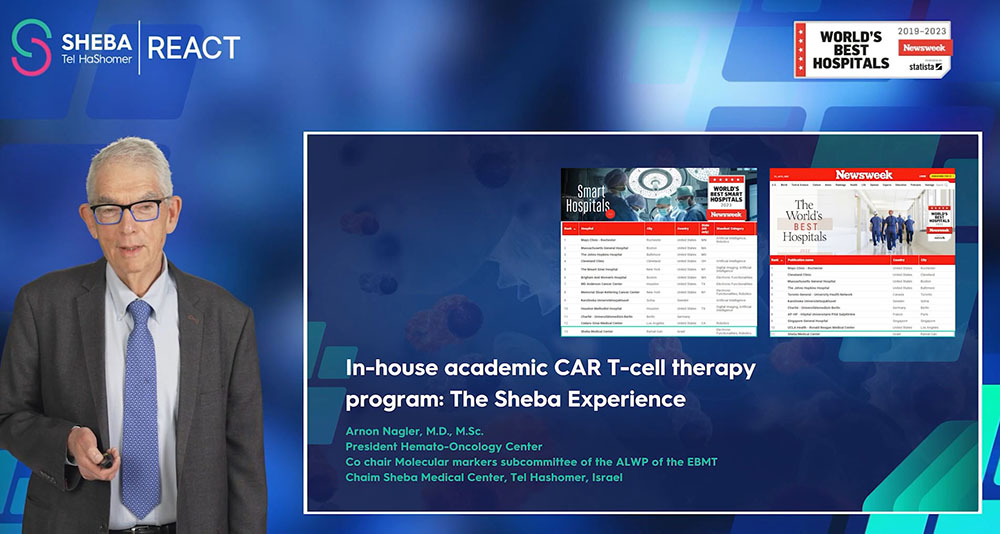 Six commercial CAR T-cell therapies
Currently, there are six commercially available CAR T-cell therapies that have received FDA approval. Four of these products, all based on the CD19 antibody, are designated for lymphoma, while the remaining two are intended for the treatment of myeloma. Commercial CAR T-cell therapy is plagued with several challenges. The foremost issues revolve around accessibility and affordability. Additionally, a typical gap of three weeks tends to separate the leukapheresis process from the time patients receive their CAR T-cell therapy. During this period, most patients require bridging therapy. Interestingly, there is a significant correlation between the necessity for bridging therapy and the response rate to CAR T-cell treatment. In cases where bridging therapy is required, the response to CAR T-cell therapy tends to be less effective. Contrarily, in-house or point-of-care academic CAR T-cell programs, such as the one at Sheba, significantly reduce the time between leukapheresis and administration of CAR T-cells to patients. In these settings, the patients typically receive their CAR T-cell therapy within 10 or 11 days.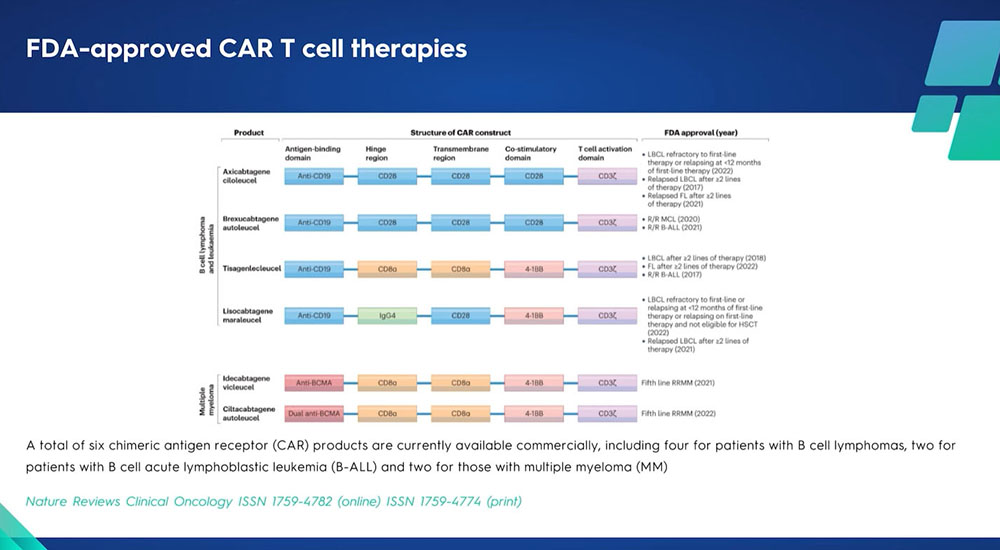 Sheba's point of care – the vein-to-vein solution
The discussion will demonstrate that for many indications, most patients do not require bridging therapy. At Sheba, there are three programs dedicated to in-house, point-of-care academic CAR T-cell therapy. The first initiative commenced in 2016, focusing on pediatric Acute Lymphoblastic Leukemia (ALL). This was followed by an expansion to adults in 2017. It is noteworthy that a significant majority of patients within this program are diagnosed with lymphoma. Sheba launched another program in November 2021, dedicated to multiple myeloma. This specific program is centered around the anti-B-cell maturation antigen. Additionally, Sheba runs a unique small-scale clinical trial focusing on a distinct category of Acute Myeloid Leukemia (AML) - those with A21 translocation expressing CD19. Six patients have been treated under this specialized program, making it a highly distinctive initiative.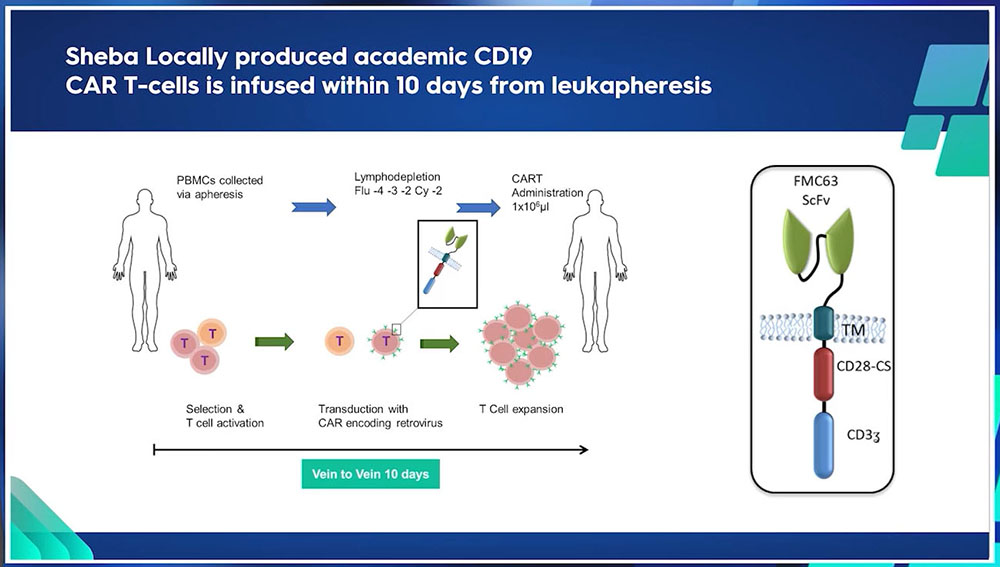 The biggest CAR-T center in Europe
The data from the European Bone Marrow Transplantation (EBMT) organization demonstrates a high level of activity at Sheba. This is symbolized through the relative size of the circle in the data representation, which directly correlates with the center's activity level.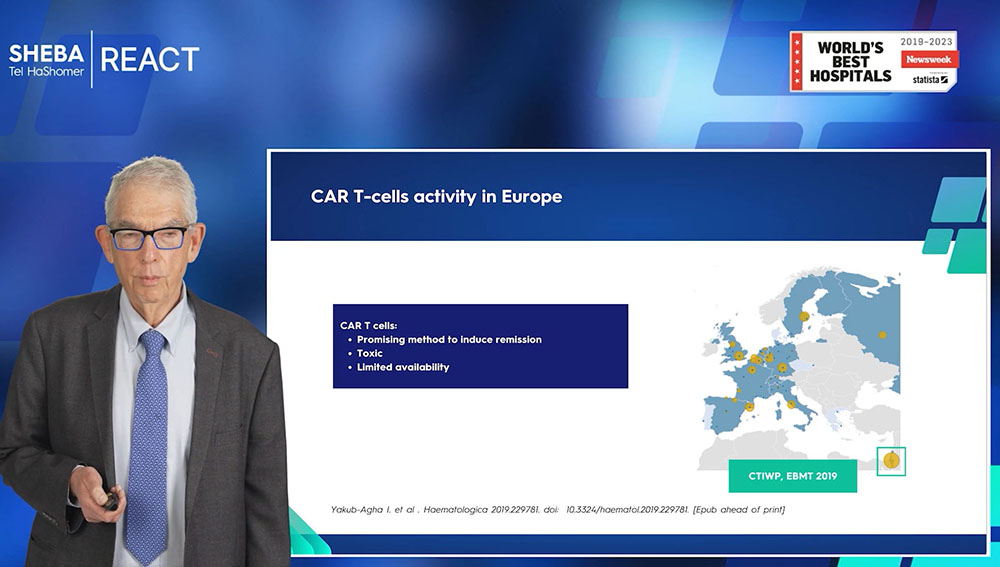 Academic CAR-T results 2023
In total, as of May 2023, 258 patients have been treated at Sheba, comprising 189 adults and 69 pediatric patients. The majority of these patients, numbering 189, have been diagnosed with lymphatic malignancies, with the exception of six patients diagnosed with Acute Myeloid Leukemia (AML). A commentary on one of the numerous publications from Sheba last year emphasized the advantages of their in-house academic CAR T-cell therapy. Among these advantages are increased accessibility and affordability for the majority of patients, making it a more cost-effective option. Moreover, the therapy is typically administered within 11 days, effectively eliminating the necessity for bridging therapy. Theoretically, this could lead to improved patient outcomes.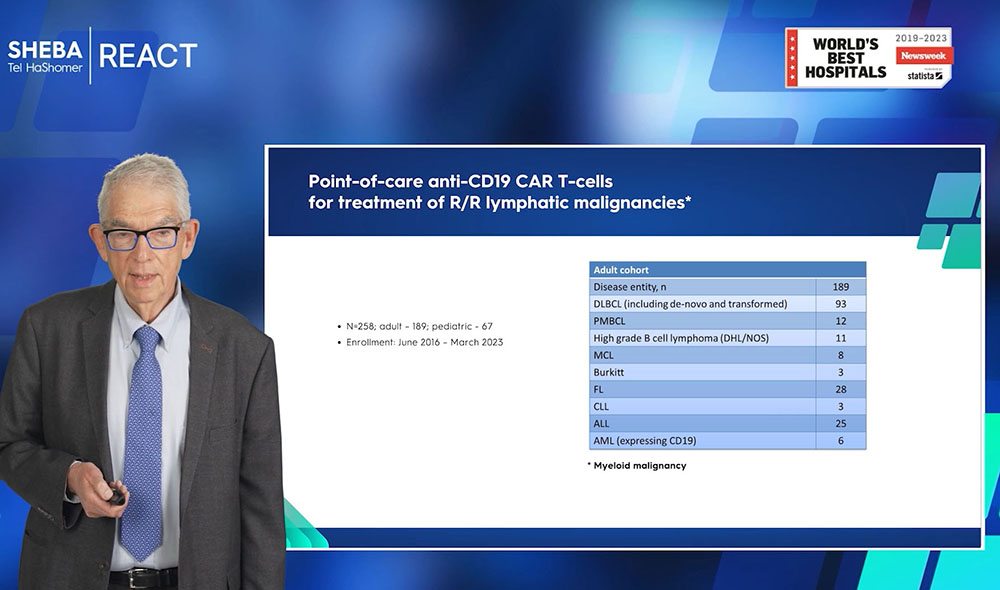 CAR-T Therapy Statistics
Details of Sheba's experiences with CAR T-cell therapy reveal that the patients are generally in advanced stages of disease. Approximately 50% of patients exhibit refractory or resistant disease, with the majority in stage four. These patients have typically undergone more than three lines of therapy, indicating an advanced group that other treatments cannot cure. A substantial portion of these patients experienced toxicity. There are two distinct forms of toxicity associated with CAR T-cell therapy. Aside from the regular toxicity resulting from transplantation chemotherapy, such as lowered blood counts and infections, the unique complications of CAR T-cell therapy include cytokine release syndrome and neurologic symptoms. Only 12-15% of patients exhibited higher grades of toxicity (grades 3 to 4), requiring interventions such as tocilizumab or steroids. Observing the overall response rate, approximately 70% of patients responded to the therapy, with half achieving complete remission and the other half showing a partial response. In a collaborative study with Sloan Kettering, 39 patients were examined, 15 of whom underwent allogeneic transplantation following CAR T-cell therapy. Six of these patients proceeded with the allogeneic transplant after achieving complete remission with CAR T-cell therapy, while the rest were due to a partial response. In conclusion, about 30% of patients could potentially be cured or respond positively to allogeneic transplantation.
To sum up, point-of-care CAR T-cell therapy presents several advantages for patients with diffuse large B-cell lymphoma. It has been observed to elicit a response in approximately 70% of patients, with about 40% achieving complete remission. These findings align with those from other studies. The results discussed herein reflect long-term outcomes over a period of four to five years.
Allogenic transplant after CAR-T
In the context of partial responses (PR), it's observed that some patients transition from a PR to a complete response (CR) within the first three months following CAR T-cell therapy. Consequently, if an allogeneic transplant is considered as a salvage therapy for CAR T-cell therapy failures or partial responses, it should ideally be scheduled for three months after the administration of CAR T-cell therapy.
CAR-T for Follicular lymphoma
For follicular lymphoma, three commercial products are approved. In a study involving 26 advanced patients (characterized by about 70% of PO 24 and other traits of advanced cases), the results have been extraordinary, with an 88% complete response rate. This outcome is unprecedented for patients with advanced, relapsed follicular lymphoma. Though the status of the disease is relevant, the lymphoma-free survival duration, response, and overall survival are promising. Comparing the Sheba cohort to three other commercial products revealed that the patients were equally, if not more, advanced, yet the results achieved were akin to those in the commercial studies. There may have been slightly more hematological toxicity observed. The study concludes that point-of-care CAR T-cell therapy induces a high complete response rate with an acceptable safety profile in patients with high-risk relapsed refractory follicular lymphoma.
CAR T for Richter Lymphoma
Richter's transformation represents a severe manifestation of follicular lymphoma. Given its devastating nature, it is often incurable, save for allogeneic transplants. However, given the advanced age of most patients, transplantation outcomes remain unsatisfactory. From an initial study involving 12 patients, six responded to the treatment. Out of the non-responsive patients, two passed away. Following the initial responses, three patients relapsed, with two undergoing transplantation and one passing away. The efficacy of CAR T cells in Richter's syndrome remains a topic of debate. Emerging data from MD Anderson and other sources suggest that combining ibrutinib with CAR T cell therapy in Richter's transformation may improve outcomes.
Pediatric CAR-T's
Thus far, our team at Sheba has been privileged to treat a total of 21 pediatric patients. While it's still early days, our preliminary findings from these treatments are truly promising. Of these 21 cases, we've unfortunately observed four instances of relapse. However, it's noteworthy that only one of these relapses involved a CD19 antigen negative scenario. We consider this a testament to the effectiveness of our approach, even though we must keep in mind that this is indeed a numbers game.
Read PART 2 of CAR-T overview >>